Do you urgently need a tree removed?
The last thing you want to hear is a tree falling on your property, not only is this very dangerous and an inconvenience figuring out how you will clean it up but can also cause huge damage or even injury.
All you have to do is simply call us, our crew are on standby 24/7, to take care of the post-storm mess. Our crew is equipped to clean and clear your property fast and effectively. We also come with our wood chipper which breaks down any green waste and tree material into organic wood chip mulch. If the green waste is not needed for mulch we can transport this off-site for you.
We do not end there! Once the cleanup is done, our specialist arborists can assess your trees and help identify if there is any other damage incurred during the storm. It is crucial to have the tree checked to identify any other hazards that could have become a risk to you and your family's safety.
We have agents in all major areas in South Africa:
Tree Felling Durban
Tree Felling Cape Town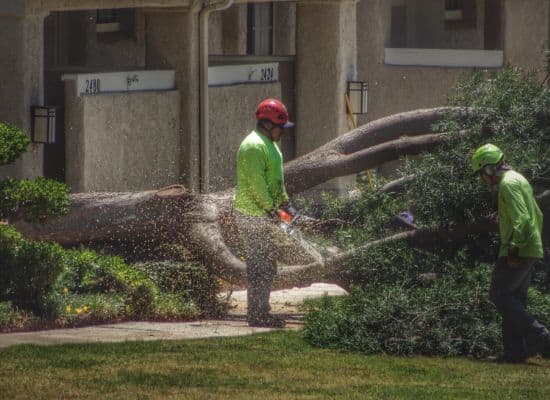 Storm damaged trees? We can help
No tree is guaranteed to be safe when a storm occurs as high wind and torrential rains can cause havoc in the community and your home, such as trees blocking roads, branches falling on cars and winds pushing overgrown trees near powerlines. This is all very dangerous.
We have an emergency crew ready for emergencies to help keep you and your family safe.
We are equipped with all the tools and the know-how to assist you. We can take care of the following: arborists reports, emergency tree removal, post-storm cleanup and powerline clearance pruning.
Give us a call today if you think your trees may be at risk during turbulent winds, we can keep your trees safe and secure.
Making sure your trees are Storm Safe
Have your trees checked by our team of certified arborists, they know how to remedy hazardous tree situations. Pruning your tree on a regular basis can also assist with the safety of your tree during a storm, have any branches chopped down that are nearby any power lines.
Storm damage and emergency assistance is one of the most critical and urgent services in the tree industry and we pride ourselves in providing professional arborist services which are cost effective to everybody. Our aim is to keep all communities safe by helping to implement Storm Safe Strategies. Contact us today and we can help.